I think Malaysia is in a heated situation lately due to our recent general election. Honestly, I feel it too but what can I do, right? Just like how people would put it,
life goes on
. However, do not feel discouraged, life isn't as bad as so - we have our own responsibilities to carry out, as a child to our parents and as a citizen to our country. Do your part well and I think you'll see the results.
Anyway, let's talk about what I have been obsessed with these days - MAC Studio Fix Fluid.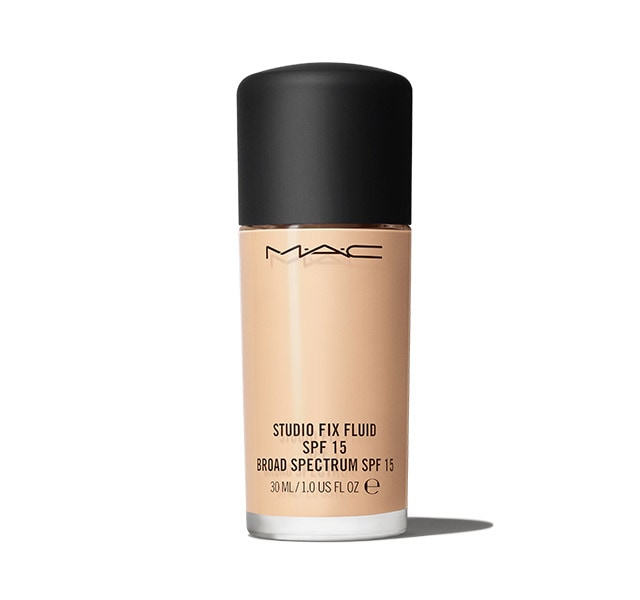 I have to admit I am not a big fan of MAC products because I always think they are overrated. The only products that I really like are the brushes. I have loved MAC109 so much that I used it for powder and also liquid make-up. Too bad it was stolen by a bunch of jerks who broke into my house last year. Then, a really close friend of mine gave me MAC168 as Christmas present last year - I love these brushes so much!
Okay, let's not talk about brushes.
I was searching for a medium to full coverage foundation earlier this year when I noticed I have somehow become darker and my
Shiseido MAQuillage Essence Rich White Liquid UV Foundation
is now too fair for me. Yeah, I am now tanner than before and I don't know why.
When I first got it about 2 months ago, I was a little cynical. All these times, I have been a fan of Urban Decay but I heard the reviews of the Naked Skin foundation aren't that great. My point of wearing foundation is to have noticeable perfect skin. I am not so much of a natural make-up lover. Yes, I don't really use bold colours but I still love my daily dose of smokey eyes.
I checked out Bobbi Brown's foundation and did not like the texture. Initially, I wanted to try out Naked Skin Beauty Balm but I don't think it is in the market yet so, I need to get something else. Since stupid sister was checking out MAC at that time, I have decided to check out the foundation for oily combination skin. Prior to that I have already read a lot of wonderful reviews about MAC Studio Fix Fluid.
One thing I like about the foundation is the price - RM115 for 30ml. Isn't it truly affordable? I mean, all these times I thought everything in MAC store will be expensive, after all, MAC's products are all categorized on the higher end.
I like the glass packaging because it really looks posh standing in my drawer. However, I think there are certain people who don't like glass packaging because glass tends to be heavier and sometimes, it feels bulky. No matter how posh the packaging is, when it comes to the point where you take off the cap and realize there is no pump, you get a little disappointed.
That was how I feel... I was hoping would come with a pump because from the reviews I have read, I often see this foundation comes with pump. I did not expect I have to purchase the pump separately. Now, I know why it retails at RM115 only - you need to pay extra to get a pump. I googled online for the price and guesss how much it would cost? A freaking USD$27 for a pump!
I was thinking MAC is mad for charging USD$27 for a pump but since I wanted it so badly, I asked few of my friends to check it out for me at MAC stores Kuching and KL. It was a pure disappointment because according to those staff at MAC stores, they do not sell the pump.
It was an utmost disappointment ever because I really love foundations with pumps. I dislike those with squeeze tube or scooping out type. I told myself to make do with the foundation and to just try it out before giving any negative comments.
Let's talk about he texture of the foundation, shall we?
I personally think the texture of the foundation is somewhere between runny and thick. It does not glide everywhere so, that is a good thing for me because I dislike runny foundation.
I was quite worried when I see the swatch of the foundation on the back of my hand - geez, it looked quite orangey! I could almost imagine myself looking like a smiling orange!
Can you see the significant? LOLX!
Okay, it doesn't look this bad honestly. Once blended out, the finish is amazing!
My shade is NC30. It's actually one shade darker than my original skin tone. Since I have uneven skin tone, I was suggested to use just one shade darker. Honestly, I think NC30 looks great on me! This is surprising a really good foundation - I love it!
It's really good that this foundation has a lot of shades for everyone from all walks of life. I don't really remember how many shades are there but what I know is, there will be a shade for everyone.
It photographs beautifully!
Initially, I thought the SPF in the foundation will give white cast but fortunately, it doesn't deliver any white cast at all. Probably the SPF is not so high to generate white cast - it comes with SPF15, which is good enough for me because I always wear a separate sunblock.
Another thing that I like about this foundation is that once it sets onto your skin, it does not feel heavy. It doesn't feel that the foundation is there at all! It is supposed to be medium to full coverage but the texture is something really lightweight!
Imagine that!
Regarding the lasting power of the foundation, I would give it a good 8 hours because it does last more than 8 hours. Usually, I would apply the foundation at about 7am and by the time I get home from work, it will be somewhere about 4.30pm to 5pm. I would normally rest for about half an hour and by 6pm, I would get my shower. Before that, I would check on my make-up.
I was surprised for so many times while I was wearing this foundation. By the end of the day, the foundation would still be intact exception for areas like on the sides of my nose and probably under eye areas due to my eyes being too teary - I almost fell asleep several times at work honestly. LOLX!
Better still, I never oiled up whenever I use this foundation, which is a plus point! It's not greasy at all on my oily combination skin type.
One thing that I can be sure of - I don't regret spending RM115 for this foundation even though there is no pump. I love it - better than any other foundations I have tried before!
Pros
Posh and sturdy packaging
Affordable
Easily available in all MAC stores throughout the country
Photographs beautifully
Lasts up to 8 hours
Not greasy
Feels smooth once it sets on the skin
Texture is not runny or heavy
Cons
No pump
Heavy due to glass bottle
I can't find fault with this foundation aside from the packaging. I like every single detail about it!