Hi, loves!
Happy Friday!
I haven't been doing a lot of make-up 101 entries for the longest time so, today, we are going to cover a little bit about different
types of eyeliners
.
Before I begin, I am sure each and every one of us are aware that we are born with different eye shapes, right? There are wide-set, close-set, almond, deep-set and others. Aside from that, some of us are born with monolids while some of us have double eye lids.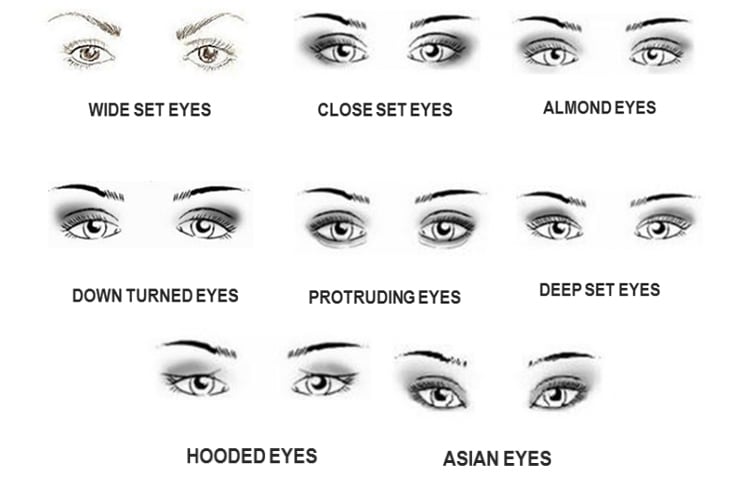 Irregardless of the shapes or colours of your eyes,
eyeliners
are often used to
enhance or even temporary change the shape of the eyes
. Eyeliners are definitely one of the make-up products that make-up lovers have to own in their collections!
Even for myself, I keep two of each type of my holy grail eyeliners - this girl just can't have enough of eyeliners plus, you'll never know when you will run out of one.
For those of you who are just starting out on make-up or even eyeliners, there are 4 different types of eyeliners available in the market -
liquid
,
pencil
,
gel
and
kohl
.
I am going to bring you into more depths and details of eyeliners and we will do it one at a time.
Are you ready?
This is the most basic type of eyeliner you can find in the market. It is one of the easiest eyeliner to maneuver and usually, beginners are encouraged to start with this type of eyeliner. Pencil eyeliners are typically cheaper than other types of eyeliners. Best of all, aside from using a pencil line your eyes, you can use it to tight-line as well as to apply it on your waterline. It is far easier to tight-line and to apply it on your waterline using a pencil liner rather than any other types of eyeliners.
However, the downside to it is that not every pencil eyeliners out there are smudge or water proof.
On top of that, due to the tip of the pencil eyeliner being round, it is quite difficult to be used to draw a cat-eye with it. Hence, you have to sharpen it from time to time to avoid the tip being blunt. Erm... just bear in mind that sharpening may waste quite a bit of the product since during sharpening.
For those of you who want to pull-off dramatic cat-eye just like Angelina Jolie's signature make-up look, you may opt for liquid eyeliners. Unlike pencil eyeliners, liquid eyeliners provide more precise and winged lines to tackle all your eyeliners' woes.
Just like what I have mentioned earlier, you can up your look with winged or cat-eye with a liquid eyeliner and at the same time, if you do not want a super dramatic look, you can create a simpler line using liquid eyeliner as well!
For those of you who are new with liquid eyeliners, there are two types of tips - felt-tip or brush-tip. Personally, I prefer brush-tip more than felt-tip because I prefer more sleek and thinner lines on my eyes. I am not so much of a dramatic eye person.
The cons of using liquid eyeliner is almost similar to any other eyeliners out there - make sure it is water proof or you're going to look like a panda or raccoon at the end of the day.
This type of eyeliner may take a bit of a practice but don't worry, once you get the hang of it, it's gonna be awesome!
Now, for this type of eyeliner, I personally think that it is more troublesome to apply comparing to liquid eyeliner. You have to get extra piece of eyeliner brush in order to apply it. As far as I am concerned, there are few different types of brushes you can use to apply your gel eyeliners.
I do have two different types of brushes in my possession though.
The best thing about gel eyeliner that it could more more long-lasting that liquid eyeliner once it has completely dried. I believe gel eyeliners are more smudge proof if compared to other types of eyeliners out there.
However, gel eyeliner is typically tougher to apply if you are just starting out with it. You need to be able to control the pressure you applied on the brush so that you will have even eyeliner texture on your eye lids. Again, I'm sure with practices, you will master it in no time!
Whenever the idea of kohl eyeliner comes about, I always think it is Cleopatra-ish. I do not know why but for me, I tend to think relate kohl eyeliner to either sexy Arabic eyes.
Kohl eyeliners in general are very, very creamy and more than often, these eyeliners are used in make-up industry to create dramatic smokey eyes. With this eyeliner, you basically require no eyeshadow at all and voila, you will have an instant smokey eyes!
The downside of kohl eyeliner - just like pencil eyeliner, you need to sharpen it from time to time to ensure easy and smooth application. Kohl eyeliner is also well-known for smudging easily since it is very creamy. So, if you want a long-lasting kohl eyeliner application, be sure to set it with eyeshadow to ensure it will not come off easily.
I am going to end this entry with several lines that I have drawn with my eyeliners. You can easily spot the differences of application and finishing with different eyeliners.
If you are interested to know more of different
eyeliners
in our market, feel free to click on the link provided in the beginning of the entry. You can find high-end eyeliner brands like Illamasqua to affordable brands like Golden Rose or Yadah from there.
I do hope you are able to find an eyeliner that works best for you!
Good luck!